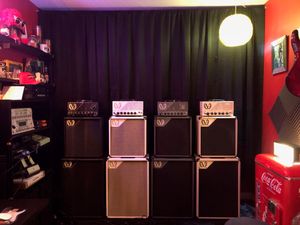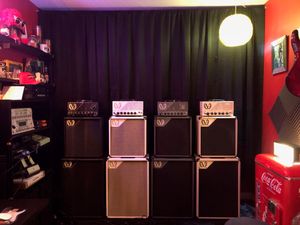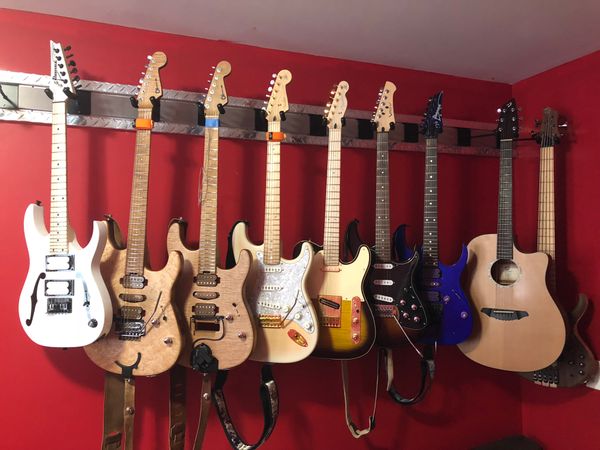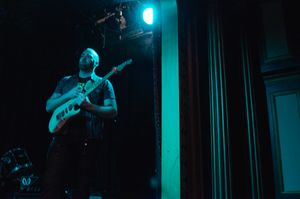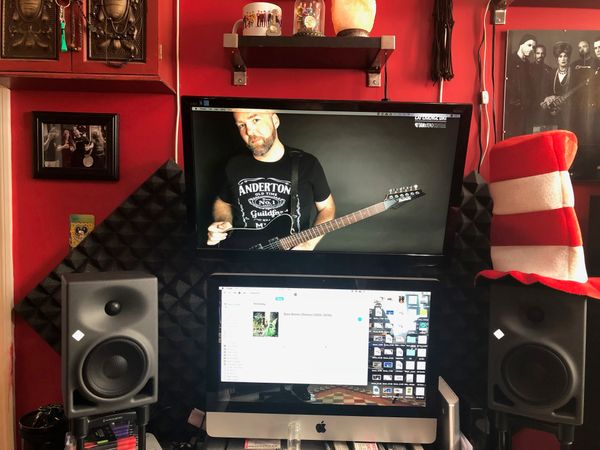 As with many musicians, the list of equipment is ever evolving. As we discover new and fun things, we add to our family. 

Guitars
Chapman Guitars is currently building my British Standard Custom. In the meantime, I'm playing my Charvel Guthrie Govan signature guitars most of the time.

Every Guitarist needs the big 3! A Strat, a Tele and a Les Paul! I have a Fender Richie Kotzen Strat which I purchased new from a shop in Holland since they aren't sold here in the states. I love it! I also have a Richie Kotzen Tele. I admit to fanboying out here, but as long as I was in the market for a strat and a tele and I wanted 22 jumbo frets and 12" radius maple fingerboards, it allowed me to do it justly! I occasionally have my brother's early 70s Les Paul Custom at my disposal. I'm keeping my eye out for my own, but I'll likely go with a Boutique builder's version instead. 
 
I have an original Ibanez RG570 I've had for 20 years that just sounds killer and plays better than just about anything. It's almost ridiculous.

I have a Line 6 Variax which allows me to emulate a plethora of guitars and other stringed instruments which comes in handy when covering multiple instrument parts in a live or recording situation. In conjunction with the Live 6 Helix, it's quite an astounding rig!

My first "keeper" electric guitar was a 1985(?) Aria Pro II Cardinal hard tail. (The first real electric guitar I owned that I liked. I got it in 1988. It was stolen this past year where it was being stored in New Milford, CT. I have a pic in the gallery of a similar guitar. Keep your eyes peeled. I'd like it back)

Breedlove Acoustic/Electric guitar for the appropriate acoustic sessions/gigs
 
Bass
Ibanez BTB675M 5 string

Amps
Lots of Victory Amplification!
Victory V30 The Countess
Victory V40 The Duchess
Victory VX The Kraken
Victory RK50 Richie Kotzen Signature Amp. This was NOT simply a fanboy purchase. Although I was elated he went with Victory for his signature. His Cornford signature amp was astonishing. So I was waiting for a new signature from whoever he went with. I was ecstatic it happened to be Victory!
Matching 1x12 and 2x12 cabs for each.
Kemper Profiler
Line 6 Helix
2 Laney IRT-X powered FRFR cabs
Peavey E208 Acoustic Combo

So many pedals...
TC Electronic
Fire Custom
Analogman
Dinosaural
Wampler
Strymon
Tech 21
Bogner
Keeley
Vertex
Suhr
Boss
MXR
JHS

*Home Recording is done on Apple Logic Pro X and Pro Tools. I can accommodate quite a bit at home with the tools I have at my disposal.